THE ANGLES HAVE LANDED

The Angles came here for a visit 1515 years ago and liked it so much they have stayed.
According to sources such as the History of Bede, after the invasion of Britannia, the Angles split up and founded the kingdoms of the Nord Angelnen (Northumbria), Ost Angelnen (East Anglia), and the Mittlere Angelnen (Mercia). Confirmation is afforded by English and Danish traditions relating to two kings named Wermund and Offa of Angel, from whom the Mercian royal family claimed descent and whose exploits are connected with Angeln, Schleswig, and Rendsburg. Danish tradition has preserved record of two governors of Schleswig, father and son, in their service, Frowinus (Freawine) and Wigo (Wig), from whom the royal family of Wessex claimed descent. During the 5th century, the Anglii invaded Great Britain, after which time their name does not recur on the continent except in the title of Suevi Angili.
Our Group has generated over 380 million visits to our sites since 1999, and this is your opportunity to participate in the success.
Join up with these leading UK advertising sites to maximise your website's viewing in Britain.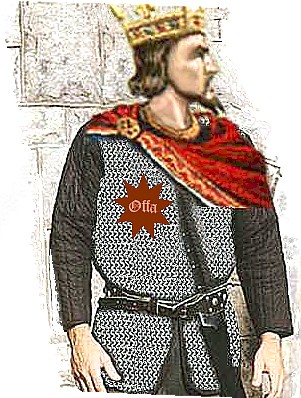 Background of The English
Kingdom of Mercia

Goodbye Rome, Hello England



The period of British history between the departure of the Roman legions and the Norman Conquest is often referred to as the 'Dark Ages'. It is called the Dark Ages for a number of reasons: the written and archaeological record for this period is scarce and the violence and lawlessness that came about from a withdrawal of formal government and administration added to its aura of bleakness. In the years after the Roman departure the very identity of Britain changed as we became 'England'. The native Britons were either assimilated into this new identity, forced further west into Wales, Cornwall and Cumbria or migrated to other parts of Europe.





Roman rule had been gradually accepted in Britain and there were no rebellions or uprisings that caused the end of Roman Britain. Problems elsewhere in the empire had necessitated the movement of troops back eastwards and whilst many in Britain expected them to return this was not to be the case. In 410 AD Britain received confirmation that she was now on her own when they wrote to Rome asking for help against the invading Picts and were told in an edict of the Emperor Honorius to look to themselves for their defence.

Within 30 years Britain had severed nearly all her ties with Rome and the end of Roman life, particularly in the more rural areas, was quick and complete. Anglo-Saxons began to arrive and the taking of control was made easier for them as there was no administration, Roman or otherwise, to adapt or overthrow.

One important factor in the speedy collapse of Roman Britain would have been the removal of the Roman economy. The economy that came over with the Romans had been responsible for everything that signified Roman Britain. The market for goods had brought with it towns, housing, clothes and laws. Across the country pockets of organised society had begun to appear, in contrast to the self-sufficient nature that had represented Iron Age Britain. After the collapse of Roman Britain many people would have returned to the almost self-sufficient life that they had lived before the Romans.

The Anglo-Saxon Chronicle begins its history with the coming of the first Saxons, Hengist and Horsa, to Britain. They had been invited by King Vortigern to help him in his battles against the fearsome Picts and Scots who had begun to invade Britain after the departure of the Romans at the beginning of the 5th century AD. At first the Saxons helped the Britons to win victories against their enemy but soon they turned against those who had invited them in the quest to secure riches and land for themselves.

After victories over the Britons they were quick to send the message home telling of the 'worthlessness of the Britons and the excellence of their land' (Anglo-Saxon Chronicle, AD 449). Soon many more began to invade Britain in the hope of a profitable return.

At first the British paid off the Saxon raiders with money called 'Danegeld' (raised by taxes) but the Saxons began to want more and the thought of easy money brought further invasions.

The Anglo-Saxons were from various tribes - Angles, Saxons, Jutes, Franks etc. They lived in the south of what is now Denmark and along the sandy coast of north-west Germany and Holland. Coming from such mountainous and wooded areas they were particularly interested in the fertile fields of Britain.

The English (as the invaders called themselves) defeated several British Kings, and set up their own independent kingdoms.

In 585 they founded Mercia (the middle of England to the Welsh Border) and to the north the English kingdom of Northumbria stretched from coast to coast. Eastern Britain was now steadily becoming England.

The natives who refused to succumb to the new rulers were pushed into Wales, Cornwall and Scotland, killed or sold into slavery.






The Anglo-Saxons and Mercia





The name Mercia comes from the Old English word 'Mierce' which means boundary, hence Mercia means 'the land of the boundary people'. This name may be significant in that part of the Western border of Mercia formed the boundary between the Anglo-Saxon English and the unconquered Britons of Wales. Some scholars have suggested that the name may to refer to the boundaries the area shared with other kingdoms such as Northumbria.

It is thought that the first Anglo-Saxons in Mercia migrated across from East Anglia, travelling along river valleys. The date given for this is early in the 6th century. It was settled by Angles c.500, probably first along the Trent valley With the arrival of the Anglo-Saxons in the area many of the Britons would have moved westwards into more securely British territory. As the Anglo-Saxons moved west from East Anglia many would have settled in places along the route that provided good water, fertile soils and timber for house-building.

As a result the kingdom of Mercia would eventually stretch from Oundle and Northampton in the east and to Hereford and Shrewsbury in the west. Within this area lie the Mercian episcopal centre of Lichfield (founded 669) and the important royal centres of Repton and Tamworth.This kingdom soon developed two main divisions; Central Mercia and Outer Mercia.

Central Mercia was made up of one tribal unit whereas Outer Mercia comprised a series of smaller tribes who would eventually owe allegiance to Central Mercia (Mercia - Sarah Zaluckyj, pg 17).

The tribes of Outer Mercia would often remain under the rule of their original king or leader who would govern on behalf of the King of Mercia, many of these smaller tribes would eventually be absorbed into the inner core of the kingdom. Outer Mercia included Herefordshire, Worcestershire, Shropshire, Cheshire, Northamptonshire, Leicestershire, and Lincolnshire, Also parts of Oxfordshire and Berkshire.

The early annals apparently indicate that the Kingdom of Mercia began in 585 AD with a man called Crida or Creod(d)a as king (It is thought that Credenhill [the site of an Iron Age hillfort] was named after this king).

He was then succeeded by Wibba/Pipba who it is thought reigned between 593 and 597. The first Mercian king mentioned by Bede is Cearl who reigned for 10 years between 597-607. Cearl was succeeded by Penda, who was to become one of the most famous kings of Mercia.

The kings of Mercia were itinerant people moving from one royal district to another expecting the local nobility to feed and take care of them. This in itself was no small feat and it has been estimated that in the 7th century '10 vats of honey, 300 loaves, 12 ambers (casks) of Welsh ale, 30 of clear ale, 2 full grown cows, or 10 wethers (castrated sheep), 10 geese, 20 hens 10 cheeses an "amber" full of butter, 5 salmon, 20 pounds of fodder and 100 eels' were required to feed and water the king and his men for one night. *1

By travelling around the different communities of the large kingdom the king could demonstrate his power and influence and hopefully discourage uprisings or rebellions. He could also listen to criminal cases and complaints and so keep a role in the leadership of his kingdom.

Eventually the smaller Anglo-Saxon kingdoms of England became absorbed by the larger kingdoms until the majority of the country was under the control of 7 different main kingdoms. These were Mercia, Northumbria, Wessex, East Anglia, Sussex. Kent and Essex.

By the 8th century Mercia had come into her own and was considered one of the three most powerful kingdoms along with Northumbria and Wessex. By this time her territory stretched from Kent in the south-east, through London and the Midlands and as far north as the Derbyshire Peak District.

This area included rich, fertile soils for crop and arable farming and in the west there were large areas of woodland such as the Forest of Dean for timber. There were quarries for stone and lead and salt works at Droitwich and Cheshire. All these would have combined to create a profitable industry for Mercia and with wealth her power would have grown.

Mercia was one of the seven kingdoms of the

Heptarchy

, and its peoples are listed in a document known as the Tribal

Hidage

. Until the annexation of the Middle Saxons and London in the 8th century, all Mercian folk-groups were Angles. In addition, Celts survived in the western fringes, and many Danes settled in eastern Mercia in the late 9th century, though both groups became assimilated. Sovereign Mercia defines as Mercian those whose ancestry can be, or in the absence of records can be presumed to be, traced back to this period – i.e. when Mercia was an independent nation-state.

The Kings & Queens of Mercia



The first dynasty of the Mercians was called Iclingas after Icel, father of Cynewald, grandfather of Cnebba, and great-grandfather of Creoda of Mercia.



Offa (r. 757-796)



Perhaps the most important of all Mercian Kings was Offa. Offa, King of Mercia seized the throne after a civil war, and established supremacy over many lesser kings.

He consolidated his position by marrying his daughters to the kings of Wessex and Northumbria, and was the first ruler to be called 'king of the English'. Offa ruthlessly overcame strong opposition in southern England. By the end of his reign, Offa was master of all England south of the Humber. He had a frontier barrier (Offa's Dyke) built; this continuous ditch and bank ran 149 miles along the boundary between the Mercian and Welsh kingdoms 'from sea to sea'. Offa had dealings with the emperor Charlemagne (a proposed dynastic marriage between their children came to nothing), and he visited Rome in 792 to strengthen his links with the papacy.


The English penny (silver currency) was introduced during Offa's reign.


In the first recorded coronation in England, Offa's son Ecgfrith was consecrated in 787 in Offa's lifetime in an attempt to secure the succession. However, Ecgfrith died childless, months after Offa. Offa's success in building a strong unified kingdom caused resistance in other kingdoms.
The Mercians' defeat at the hands of Egbert of Wessex at the battle of Ellendun in 825 meant that supremacy passed to Wessex.
Three places claim to be the capital of Mercia. They are Lichfield, Repton and Tamworth. Below we list what is known of these places in the dark ages.





For knowledge of the internal composition of the Kingdom of Mercia, we must rely on a document of uncertain age (possibly late 7th century), known as the Tribal Hidage – an assessment of the extent (but not the location) of land owned (reckoned in hides), and therefore the military obligations and perhaps taxes due, by each of the Mercian tribes and subject kingdoms by name. This hidage exists in several manuscript versions, some as late as the 14th century. It lists a number of peoples, such as the Hwicce, who have now vanished, except for reminders in various placenames (see map at the head of this article). The major subdivisions of Mercia were as follows:










The Mercians dwelling south of the River Trent. Folk groups within included the Tomsæte around Tamworth and the Pencersæte around Penkridge (approx. S. Staffs. & N. Warks.).




The Mercians dwelling north of the River Trent (approx. N. Staffs., S. Derbys. & Notts.).




An early phase of Mercian expansion, possibly 6th century (approx. S. Lincs., Leics., Rutland, Northants. & N. Oxon.).




Once a kingdom in its own right, disputed with Northumbria in the 7th century before finally coming under Mercian control (approx. N. Lincs.).




A collection of many smaller folk groups under Mercian control from the 7th century, including the Spaldingas around Spalding, the Bilmingas and Wideringas near Stamford, the North Gyrwe and South Gyrwe near Peterborough, the West Wixna, East Wixna, West Wille and East Wille near Ely, the Sweordora, Hurstingas and Gifle near Bedford, the Hicce around Hitchin, the Cilternsæte in the Chilterns and the Feppingas near Thame (approx. Cambs., Hunts., Beds., Herts., Bucks. & S. Oxon.).




Once a kingdom in its own right, disputed with Wessex in the 7th century before finally coming under Mercian control. Smaller folk groups within included the Stoppingas around Warwick and the Arosæte near Droitwich (approx. Gloucs., Worcs. & S. Warks.).




A people of the Welsh border, also known as the Westerna, under Mercian control from the 7th century. Smaller folk groups within included the Temersæte near Hereford and the Hahlsæte near Ludlow (approx. Herefs. & S. Shrops.).




A people of the Welsh border under Mercian control from the 7th century. Smaller folk groups within included the Rhiwsæte near Wroxeter and the Meresæte near Chester (approx. N. Shrops., Flints. & Cheshire).




An isolated folk group of the Peak District, under Mercian control from the 7th century (approx. N. Derbys.).

Land Between Ribble & Mersey




A disorganised region under Mercian control from the 7th century (approx. S. Lancs.).




Taken over from Essex in the 8th century, including London (approx. Middlesex).







After Mercia was annexed by Wessex in the early 10th century, the West Saxon rulers divided it into shires modelled after their own system, cutting across traditional Mercian divisions. These shires survived mostly intact until 1974, and even today still largely follow their original boundaries.

The first kings of Mercia were pagans, and they resisted the encroachment of Christianity longer than other kingdoms in the Anglo-Saxon Heptarchy.

Mercian rulers remained resolutely pagan until the reign of Peada in 656, although this did not prevent them joining coalitions with Christian Welsh rulers to resist Northumbria. The first appearance of Christianity in Mercia, however, had come at least thirty years earlier, following the Battle of Cirencester of 628, when Penda incorporated the formerly West Saxon territories of Hwicce into his kingdom.

The conversion of Mercia to Christianity occurred in the latter part of the 7th century, and by the time of Penda's defeat and death, Mercia was largely surrounded by Christian states. Diuma, an Irish monk and one of Oswiu's missionaries was subsequently ordained a bishop - the first to operate in Mercia. Christianity finally gained a foothold in Mercia when Oswiu supported Peada as sub-king of the Middle Angles, requiring him to marry Oswiu's daughter, Alchflaed, and to accept her religion

Decisive steps to Christianise Mercia were taken by Chad (Latinised by Bede as Ceadda), the fifth bishop to operate in Mercia. This controversial figure was given land by King Wulfhere to build a monastery at Lichfield. As in other Anglo-Saxon kingdoms, the many small monasteries established by the Mercian kings allowed the political/military and ecclesiastical leadership to consolidate their unity through bonds of kinship

In 669, according to the Venerable Bede, Chad moved his bishopric to a place called 'Licidfelth'

The burial in the cathedral of individual kings of Mercia, such as Celred in 716, further increased the prestige of Lichfield. In 786, Pope Adrian I raised it at the request of Offa, King of Mercia, to the dignity of an archbishopric, but in 803 the primacy was restored to Canterbury. St. Chade, the Patron Saint of Mercia was buried here and many pilgrims visited his Shrine.

The first church probably stood on the site of the present cathedral, and the settlement quickly grew as the ecclesiastical centre of the Kingdom of Mercia


Repton - The Birthplace of Christianity in Mercia



The village dates back to Anglo-Saxon times and was the place where Christianity was first preached in the Midlands. In the crypt of the church there are still well preserved remains of Saxon architecture. Repton church was the burial place of Mercian Kings. It dates from around 750 AD and contains the tombs of King Ethelbald of Mercia(ad757), King Wiglaf in AD840 and his grandson St Wystan who was brutally murdered. The crypt became a place of pilgramage.

A monastery had been founded following the arrival of Christianity in Mercia around AD653. It was sacked by the Danes, lay in ruins for 200 years and never rebuilt, but the crypt survived and a church was built on the old site. Its 212 ft spire is a land mark for miles around. Repton is known and sign posted as the capital of Mercia.


Tamworth - The Site of The Royal Palace



When Offa came to the throne of Mercia in 757 AD, he made Tamworth his chief residence and built a palace there

Offa's palace was likely a large, thatched, wooden building and as such it's location is not known, but it might have been north-east of Bolebridge Street in Tamworth following excavations in 1968, although other possible locations include the area of the churchyard north of St. Editha's church or in the Castle Grounds near the castle gatehouse.

Tamworth was sacked by Danes in the 9th century. Defences in the form of a castle were constructed against Danish invaders by Ethelfleda Queen of the kingdom of Mercia.



The Anglo-Saxons felled many clearings in the Forest of Arden to make way for their homesteads, and many Midland towns and villages have names which are derived from their original Anglo-Saxon owners. The following list is only a quick example, there are many others:



Eccleshall - Æcla's Halh - 'the Hillside of Aecla'
Essington - Esne Ingas Tun - 'The Farmstead of Esne's People'
Handsacre - Handa's Acre - 'the Farm of Handa'
Hednesford - Heoden's Ford - 'the Ford of Heoden'
Teddesley - Tyddi's Leah - 'the Woodland Clearing of Tyddi'
Tutbury - Tutta's Byrig - 'the Fortification of Tutta'
Wednesbury - Weoden's Byrig - 'The Fortification of Weoden'
Wednesfield - Weoden's Feld - 'the Field of Weoden'
Wolseley - Wulfgar's Leah - 'the Woodland Clearing of Wulfgar'
Wolverhampton - Wulfruna's Hame Tun - 'the Home Steading of Wulfruna'

Many other places have names which have been derived from Anglo-Saxon words describing their original local situation. These names are important as they give an idea of what the land actually looked like around one and a half thousand years ago. The following list contains a few examples of this type of place-name which occur around the Cannock Chase area:

Aldridge - Alr Wic - 'the Village of the Alder trees'
Alrewas - Alr Woesc - 'the Alder Swamp'
Brereton - Brere Don - 'the Hill of Briar bushes'
Bromley - Brom Leah - 'the Woodland Clearing covered with Broom bushes'
Brewood - Bre Wudu - 'the Wooded Hill'
Burton - Burh Tun - 'the Farmstead at the Fortifications'
Fazeley - Fearr Leah - 'the Woodland Glade where Bulls are raised'
Hagley - Hacga Leah - 'the Woodland Clearing where Hawthorn grows'
Rugeley - Hrycg Leah - 'The Clearing on the Ridge'
Stafford - Staeth Forda - 'the Ford at the Wharf'
Stoke - Stoc - 'the Holy Place'
Stretton - Straet Tun - 'the Farmstead on the Roman Road'
Tamworth - Tame Weorth - 'the Enclosure on the River Tame'


Mercian was spoken in the Anglo-Saxon kingdom of Mercia. Together with Northumbrian, it was one of the two Anglian dialects. The other two dialects of Old English were Kentish and West Saxon.

The dialect was spoken as far east as to border East Anglia and as far west as Wales. It was spoken as far north as Staffordshire, bordering Northumbria and Strathclyde; and as far south as South Oxfordshire/ Gloucestershire, where it bordered Essex and Wessex. The language has an Anglo-Celtic structure, reflecting the meeting point between the two cultures. Language from the Northumbrian dialect, which has strong Viking
influence, also filtered in on a few occasions. Mercian grammar is very dense and often complex.

Nouns have three genders: masculine, feminine, neuter; and four cases: nominative, accusative, dative and genitive. These, in addition, all have singular and plural forms.
Mercian nouns can be strong or weak.


J.R.R. Tolkien is one of many scholars who have studied and promoted the Mercian dialect of Old English, and introduced various Mercian terms into his legendarium – especially in relation to the Kingdom of Rohan, otherwise known as the Mark (a name cognate with Mercia). Not only is the language of Rohan actually translated into the Mercian dialect of Old English, but a number of its kings are represented as having the same names as monarchs who appear in the Mercian royal genealogy, e.g. Fréawine, Fréaláf and Éomer (see List of kings of the Angles).


The Angles is a modern English word for a Germanic-speaking people who took their name from the ancestral cultural region of Angeln, a district located in Schleswig-Holstein, Germany. The Angles were one of the main groups that settled in Britain in the post-Roman period, founding several of the kingdoms of Anglo-Saxon England, and their name is the root of the name "England". The ethnic name "Angle" has had various forms and spellings, the earliest attested being the Latinized name Anglii, a Germanic tribe mentioned in the Germania of Tacitus. The original noun from which this adjective was produced has not been determined with confidence. The stem is theorized to have had the form *Ang?l/r-. The more prominent etymological theories concerning the name's origin have included:


* Derivation from the Latin word angulus, translating as "angle".
* The Old English word for the Jutlandic district of Angeln (where the Angles are believed to have emigrated from) is Angel. This is the preferred etymological theory amongst historians, and may connect to Angle (the peninsula is noted for its "angular" shape).
* It may mean "the people who dwell by the Narrow Water," (i.e. the Schlei), from the Proto-Indo-European language root ang- meaning "narrow".
* Derivation from the Germanic god Ingwaz or the Ingvaeones federation of which the Angles were part (the initial vowel could as well be "a" or "e").



Pope Gregory the Great is the first known to have simplified Anglii to Angli, which he did in an epistle, the latter form developing into the preferred form of the word in Britain and throughout the continent (the generic form becoming Anglus in answer). The country remained Anglia in Latin. Meanwhile, there are several likenesses of form and meaning attested in Old English literature: King Alfred's (Alfred the Great) translation of Orosius' history of the world uses Angelcynn (-kin) to describe England and the English people; Bede used Angelfolc (-folk); there are also such forms as Engel, Englan (the people), Englaland, and Englisc, all showing signs of vocalic mutation and later developing into the dominant forms. Angle is used as the root of the French and Anglo-Norman words Angleterre (Angleland, i.e. England) and anglais (English).

The map shows both the Angeln peninsula (to the east of Flensburg and Schleswig) and the Schwansen peninsula (south of the Schlei).


LADY GODIVA


Godiva (Old English: Godgifu, "god gift"), often referred to as Lady Godiva (fl. 1040–1080), was an Anglo-Saxon noblewoman who, according to legend, rode naked through the streets of Coventry, in England, in order to gain a remission of the oppressive taxation imposed by her husband on his tenants. The name "Peeping Tom" for a voyeur originates from later versions of this legend in which a man named Tom had watched her ride and was struck blind or dead.



Lady Godiva was the wife of Leofric, Earl of Mercia. Her name occurs in charters and the Domesday survey, though the spelling varies. The Old English name Godgifu or Godgyfu meant "gift of God"; Godiva was the Latinised version. Since the name was a popular one, there are contemporaries of the same name. If she was the same Godgifu who appears in the history of Ely Abbey, the Liber Eliensis, written at the end of 12th century, then she was a widow when Leofric married her. Both Leofric and Godiva were generous benefactors to religious houses. In 1043 Leofric founded and endowed a Benedictine monastery at Coventry .


Writing in the 12th century, Roger of Wendover credits Godiva as the persuasive force behind this act. In the 1050s, her name is coupled with that of her husband on a grant of land to the monastery of St Mary, Worcester and the endowment of the minster at Stow St Mary, Lincolnshire.[4][5] She and her husband are commemorated as benefactors of other monasteries at Leominster, Chester, Much Wenlock and Evesham. She gave Coventry a number of works in precious metal made for the purpose by the famous goldsmith Mannig, and bequeathed a necklace valued at 100 marks of silver. Another necklace went to Evesham, to be hung around the figure of the Virgin accompanying the life-size gold and silver rood she and her husband gave, and St Paul's Cathedral, London received a gold-fringed chasuble. She and her husband were among the most munificent of the several large Anglo-Saxon donors of the last decades before the Conquest; the early Norman bishops made short work of their gifts, carrying them off to Normandy or melting them down for bullion.
The manor of Woolhope in Herefordshire, along with four others, was given to the cathedral at Hereford before the Norman Conquest by the benefactresses Wulviva and Godiva – usually held to be this Godiva and her sister. The church there has a 20th century stained glass window representing them. Her mark, di Ego Godiva Comitissa diu istud desideravi, appears on a charter purportedly given by Thorold of Bucknall to the Benedictine monastery of Spalding. However, this charter is considered spurious by many historians. Even so it is possible that Thorold, who appears in the Domesday Book as sheriff of Lincolnshire, was her brother.
After Leofric's death in 1057, his widow lived on until sometime between the Norman Conquest of 1066 and 1086. She is mentioned in the Domesday survey as one of the few Anglo-Saxons and the only woman to remain a major landholder shortly after the conquest. By the time of this great survey in 1086, Godiva had died, but her former lands are listed, although now held by others. Thus, Godiva apparently died between 1066 and 1086.
The place where Godiva was buried has been a matter of debate. According to the Chronicon Abbatiae de Evesham, or Evesham Chronicle, she was buried at the Church of the Blessed Trinity at Evesham, which is no longer standing. But, according to the authoritative account in the Oxford Dictionary of National Biography, "There is no reason to doubt that she was buried with her husband at Coventry, despite the assertion of the Evesham chronicle that she lay in Holy Trinity, Evesham." Dugdale (1656) says that a window with representations of Leofric and Godiva was placed in Trinity Church, Coventry, about the time of Richard II.


Lady Godiva statue by Sir William Reid Dick unveiled at midday on 22 October 1949 in Broadgate, Coventry, a £20,000 gift from Mr WH Bassett-Green, a Coventrian